Nancy Seiler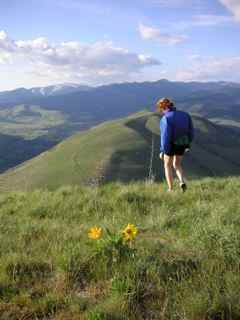 Graphic Designer  Nancy graduated from The Art Institute of Pittsburgh and has owned Seiler Design, a graphic design and illustration business in Missoula, Montana since 1988. Her business focuses on print and interpretive design, and natural history illustration.
Artist  Nancy paints in fluid acrylics in her studio in Missoula. Her work has been in many gallery shows in the Missoula area since 2010 and is currently on display at her studio/gallery and can be viewed by appointment.
Illustrator  Nancy's natural history and botanical illustrations are featured in various brochures and posters, and on many interpretive panels.
Instructor  Nancy has taught adults botanical illustration and field journaling at The Montana Natural History Center, Yellowstone Association Institute, and The University of Montana's Osher Lifelong Learning Institute (MOLLI). Her botanical art has been in gallery shows in Colorado, Montana and Illinois.
"Taking Nancy's class has really helped me appreciate my environment when I take a hike. Now I especially notice the flowers, even the modest ones, and wonder what secrets they hold. My mind registers what's growing where – lower down, higher up, north-facing, south-facing.  It really enriches my experience of nature." Dorothy Patent, Missoula
ART SHOWS
New Acrylics
June, 2014
The Artists' Shop • 127 N. Higgins Ave. • Missoula, Montana
New Acrylics
April, 2014
A&E Architects • 222 N. Higgins Ave. • Missoula, Montana
Ingredients Market Vegetables and Herbs
December 6 – December 23, 2013
The Market on Front • 201 East Front Street • Missoula, Montana
New Acrylics
March 1 – March 31, 2013
A&E Architects • 222 N. Higgins Ave. • Missoula, Montana
New Acrylics
September -November, 2012
Clover • 114 E. Main St. • Missoula, Montana
Plein Air Paint Out
July-August, 2012
The Dana Gallery • 246 N. Higgins Ave. • Missoula, Montana
"Color on the Landscape"
April 1 – July 31, 2012
Russell E. Smith Courthouse Public Gallery
201 East Broadway, 2nd Floor • Missoula, Montana
"Waterworks" New Acrylics
March 1 – March 30, 2012
Great Harvest • 1407 S. Higgins Ave. • Missoula, Montana
"Waterworks" New Acrylics
February 1 – February 29, 2012
A&E Architects • 222 N. Higgins Ave. • Missoula, Montana
Native Plants and Pollinators
May 1 – May 30, 2011
The Montana Natural History Center, Missoula, Montana
New Acrylics
March 4, 2011 – March 28, 2011
A&E Architects • 222 N. Higgins Ave. • Missoula, Montana
50 Botanical Illustrations of Native Plants, Noxious Weeds and New Invaders
November 5 – November 19, 2010
The Gallery at 4th & Oak, Missoula, Montana
New Acrylics and Oils (with Laura Blaker)
August 1 – August 31, 2010
The Gallery at 4th & Oak, Missoula, Montana
Botanical Illustration (with Claire Emery)
June 1 – June 30, 2009
The Montana Natural History Center, Missoula, Montana
Botanical Illustration (with Beth Warren)
September 1 – September 30, 2008
Catalyst Bakery Café, Missoula, Montana
"The Art of Botanical Illustration"
Show of my own work as well as my botanical illustration students' work
May 1 – May 30, 2008
The Montana Natural History Center, Missoula, Montana
MUG / SHOTS Juried Exhibition
January 11 – January 26, 2008
Gallery 659, Glencoe, Illinois
"Homegrown" gourd colored pencil drawing
"The Art of Botanical Illustration"
Show of my own work as well as my botanical illustration students' work
May 2 – May 30, 2006
The Montana Natural History Center, Missoula, Montana
Botanical Illustration
Spring, 2005
Great Harvest Bakery, Missoula, Montana
Botanical Illustration
May 1 – May 31, 2003
Miss Zula's, Missoula, Montana
1st American Society of Botanical Artists Western Region Juried Exhibit
February 15 – April 13, 2003
Loveland Museum / Gallery, Loveland, Colorado
"Dahlia" colored pencil drawing
TEACHING
A FOREST FOR EVERY CLASSROOM
How to Teach Nature Journaling to Students
U.S. Forest Service and Montana Natural History Center Collaboration
Ovando, Montana, July, 2012
THE MONTANA NATURAL HISTORY CENTER
Introduction to Botanical Illustration
Botanical Illustration in Graphite
Botanical Illustration in Watercolor
Botanical Illustration in Colored Pencil
Missoula, Montana, 2004 – 2008
THE BLACKFOOT CHALLENGE EDUCATORS SEMINAR
How to Teach Nature Journaling to Students
Ovando, Montana, June 12, 2006
ECOS (Ecologists, Educators and Schools)
Taught Nature Journaling to Graduate Students
Missoula, Montana, June 22, 2006
THE YELLOWSTONE ASSOCIATION INSTITUTE
Botanical Illustration from the Ground Up, September, 2007
Botanical Illustration from the Ground Up, September, 2008
Drawing in Depth, The Plants of Yellowstone, September, 2009
Drawing in Depth, The Plants of Yellowstone, July, 2010
Lamar Buffalo Ranch, Yellowstone National Park
WEEKEND and MULTI-WEEK WORKSHOPS
Botanical Illustration of Orchids
Nature Journaling
Botanical Illustration in Graphite
Botanical Illustration in Colored Pencil
Botanical Illustration in Watercolor
Drawing Leaves
2008-2013, Missoula, Montana
MOLLI COURSES
(Montana Osher Lifelong Learning Institute for age 50+)
Botanical Illustration in Graphite, Fall, 2008
Nature Journaling, Fall, 2009
Journaling Missoula's Springtime Native Plants, Spring, 2012
Journaling Missoula's Springtime Native Plants, Spring, 2013
The University of Montana, Missoula, Montana
DRAWING BASICS FOR KIDS
Ongoing Fridays, February – June, 2008, Missoula, Montana
BOTANICAL ART COMMISSIONS
Arrowleaf Balsamroot, Colored Pencil, The Montana Native Plant Society Yearly Award
Mimulus lewisii, Watercolor, The Montana Native Plant Society Yearly Award
Booth's Willow, Colored Pencil, The Montana Native Plant Society Yearly Award
Indian Breadroot, Colored Pencil, The Montana Native Plant Society Yearly Award
Garnet Ghost Town Native Plants, Watercolor, Montana Native Plant Society Yearly Award
Astragalus scaphoides, Watercolor, Private collection
Penstemon cardinalis, Watercolor, Private collection
Four Missoula Native Plants, Colored Pencil, Private collection
Scarlet Paintbrush, Ink and Watercolor, Private collection
Pansies, Watercolor, Private collection
Trio: Harebell, Glacier Lily, Lupine, Watercolor, Private collection
Pasqueflower, Watercolor, Private collection
PUBLICATIONS
Draba calicifuga, Pen & Ink, Published in Novon Vol. 19 No. 2 pp182-186; Missouri Botanical Garden