Private Lessons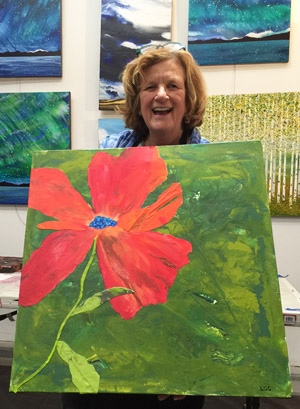 Join Nancy for private or semi-private lessons! Nancy will guide you as you learn to paint with acrylics or watercolor. She can also help you with your drawing skills through nature journaling in the studio or outside. Contact Nancy for more details and pricing information. All ages accepted.
"Thank you so much for the wonderful private lessons. Besides having a great time with you, I truly learned a great deal about acrylic painting. I had no idea how much could be done with acrylics. We tried it all…high flows, fluids, acrylic mediums and even molding pastes. I now feel confident about using them on my own. Your gentle and informative teaching allowed me to become a better artist. The balance between allowing me to create my work while helping me grow as an artist is a delicate balance. You easily achieve that balance. Acrylic painting has deepened and increased my creativity. I found myself painting quickly with confidence. I am used to thinking and planning my paintings when I work in oil. With acrylics, I found that the acrylics informed me what I was going to paint. Nancy, thank you so much for this experience. I really appreciate the time you spent with me. I look forward to taking additional classes with you — especially one of your nature journaling classes."
—Sydney Green
Gift certificates for lessons are also available. For more information, please contact Nancy.